COVID-
19
& Emergency Resources
5 Things Small Businesses Should Know
A message from Canadian Chamber of Commerce President and CEO, Perrin Beatty
Proud to Support NeighourGood
Buy local. Order from local businesses online. Purchase gift certificates now to use later.
Order meals for takeout or delivery. Send messages of support on social media.
Together we will remain strong and resilient.
WHO WE ARE
Since 1985, member advocacy has been our top priority. As an independent organization with strong local government representatives, the Mount Pearl-Paradise Chamber of Commerce (MPPCC) is able to work on projects and challenge issues that impact local businesses. Our advocacy committee is also largely responsible for monitoring government activity and making recommendations to the Board of Directors for action or informational purposes.
Board of Directors
Your Local Business Support
Dave Halliday
President
Account Manager, Bonshaw Media
Since graduating from Memorial University with a Bachelor of Business Administration degree, Dave has been working with enterprises of all sizes to help them achieve their marketing goals.
With over seven years experience as a marketing consultant, his expertise in customer service, sales, and marketing has allowed him to develop a keen eye for creative and progressive views towards media placement.
While he enjoys volunteering with associations he is passionate about, Dave also has been an active musician in the community with his band The Hallidays and teaches percussion at Halliday Music Studio.
Jillian Hewitt
Vice President
A.F. Bruce Law
Jillian Hewitt is an associate lawyer with the law firm A.F. Bruce Law. Jillian obtained her International Bachelor of Business Administration from Memorial University in 2010 and graduated from the University of New Brunswick with a Juris Doctor in 2014.
Jillian considers herself so fortunate to have grown up in Mount Pearl and to have had the opportunity to be a part of the warm and growing community for so many years. She hopes to continue to nurture these community relationships onward throughout her professional career.
With the firm, Jillian maintains a varied general practice encompassing a wide range of areas including civil litigation, real estate, family law, criminal law, wills and estates and administrative law.
Brad Bragg
Director
Royal LePage Vision Realty
Currently Brad provides full Residential and Commercial real estate services to customers across Mount Pearl, Paradise and the Greater St. John's area. Clients appreciate his honesty, patience and conscientious attitude towards the tasks at hand. Prior to returning to his hometown of Mount Pearl, Brad worked abroad in Hospitality, Education and has a strong IT background. Bringing these areas together provide Brad with a diverse and unique range of experiences, problem-solving skills and abilities. Brad's professional development has continued long after graduating with an Information Systems degree from St. Francis Xavier University. He currently volunteers for the Royal LePage Shelter Foundation and the Association for New Canadians. Having been a member of the MPPCC since 2015, Brad is eager to contribute as a Board member in order to improve upon his professional and leadership skills. Brad feels strongly about being a participating member and promoting the growth and development of a prosperous business community in Mount Pearl, Paradise.
Colleen Glynn
Director
MGM National Safety Training & Services
Colleen's career started as a Software Developer and Business Analyst within the IT industry, working for various companies within the sector throughout Canada and the US for a little over 20 years. She has lived outside of Newfoundland for 8 years but always knew that she would come "HOME" to raise a family. Returned to NL in 2003 and continued working within the Information Technology sector until late 2014 at which time she decided on a career change. It was then that Colleen started working alongside her Husband, Scott in the Safety Training field. 
In 2017, Colleen and Scott partnered with Colin Murphy and started their own company called MGM National Safety Training & Services, which is located in Mount Pearl.
Colleen is a firm believer in what the Chamber of Commerce stands for and how it brings the business communities together to support one another. She welcomes the opportunity to develop and expand her own business knowledge while drawing on the experiences and support of other members who have such diverse business backgrounds.
Colleen has seen first hand the benefits of joining the Chamber of Commerce and wish to be part of the expandimng and growing the membership. MGM National's business partners attend every event that the Chamber offers and have made many new friends, business acquaintances, and clients. Many of these members are now business associates that they rely on for their services. There is nothing that is ever too small or insignificant to benefit from, no matter if it is today, tomorrow, next week or next year.
Darlene Careen
Director
Darlene Careen is a proud resident and tireless volunteer in the City of Mount Pearl and has been for over 20 years. After studying Business Administration at Memorial University, Darlene has enjoyed a successful, progressive career in the oil and gas industry, which has led her to her current position on the West White Rose Project. Her work experience with major industrial projects has covered the many facets of commercial management including contract management, negotiation, execution, close-out, and labour relations.
A true community-builder, volunteering is a part of who Darlene is and has been through all the stages of her life. A mother of two, she has always been involved in her children's groups and activities. As her son moved through Beavers, soccer and hockey, she found herself volunteering as a leader, coach, "cheerleader," "chauffeur", fundraiser, and eventual board member. Likewise, for her daughter, she supported her and her friends backstage at dance competitions and recitals.
Right now, things are bittersweet for Darlene as her children become adults. While she may no longer have babies in the house, she has more time for volunteering. Today, she is a board member for the Alzheimer's Society of Newfoundland and Labrador, treasurer for the Mount Pearl Frosty Festival Board of Directors, Mount Pearl City Days committee member, Avalon Dragon Boat racer for breast cancer survivors, an instructor for Junior Achievement's Our Business World, and a Techsploration role model and mentor to several young women as they launch their careers. All while spending time supporting the Ronald McDonald House and Jimmy Pratt Breakfast Service.
Darlene would love the opportunity to bring her professional skills, leadership, business and community network, knowledge, and dedication to the Mount Pearl-Paradise Chamber of Commerce Board of Directors, and, in turn, learn from and create new connections with its many amazing directors and members. Darlene believes that Mount Pearl is the best place to raise a family and wants to help foster a strong and diverse business community that can offer opportunities for all its residents.
Donna Peet
Treasurer
Donna Peet works as a Commercial Account Manager at RBC. With more than 12 years working in the financial industry, she has demonstrated her ability to provide exceptional service and advice to her clients to help them achieve their goals. She graduated with a Business and Economics degree in 2006 and obtained her CPA, CMA designation in 2015. She also currently sits on the board of the CPA Education Foundation of NL.
Donna Peet was born and raised in Mt. Pearl and is passionate about the continued growth and success of this community. She is eager to continue contributing as a Board Member of the Mount Pearl Paradise Chamber of Commerce.
Ian Clark
Director
Mortgage Broker, East Coast Mortgage Brokers
Ian is a Mount Pearl native who grew up in Powers Pond. From his early school days at Newtown Elementary to graduation at Mount Pearl Senior High before attending University, he has constantly been involved in either soccer, swimming, or his many years with Scouts.
Last April Ian joined the Chamber and has become an active member to his community. As a mortgage professional developing relationships and educating clients, he can still be spotted on our trails and parks with his dog Cohen.
Scott Hillyer
Director
Coffee Matters
Scott Hillyer is a proud father, volunteer, and businessman who likes to give back to the community.
Scott has worked in the food service community since the age of 15. During his time in the hospitality & restaurant industry, Scott has learned what matters most – great customer service, top-notch quality food & a clean and friendly environment. Scott loves people and likes to get to know his customers on a one on one basis. On any given day, you'll find Scott serving up coffee, making sandwiches, and clearing the odd table! He believes on a truly hands on approach.
With 8 locations in and around St. John's, and 1 in Halifax, Scott has poured his heart and soul into Coffee Matters and enjoys taking a leadership role past vice chair of both the Hospitality Newfoundland and Labrador and the Restaurant Association of Newfoundland Labrador. Scott is the proud father of two sons and a daughter who keep him on his toes.
Michele O'Reilly
Secretary
MOR Financial
Michele started her career in the insurance/investment industry more than 20 years ago. The first nine as an Executive Assistant/Branch Manager for a local Wealth Management Firm before starting her own independent Financial Planning and Employee Benefits Firm, MOR Financial in 2007. Michele possesses the Certified Financial Planner (CFP) and Certified Health Insurance Specialist (CHS) designations. With these certifications and an understanding of the importance of continuing education, Michele provides her clients with unbiased advice with integrity.
Michele has held several volunteer positions at the local level with Advocis, The Financial Advisors Association of Canada including four years in the President's role. Michele has also served in the past on the Mount Pearl Paradise Chamber Board and has returned once again to be a part of a great team at the Chamber.
Wanda Palmer
Executive Director
Mount Pearl Paradise Chamber of Commerce
Wanda is a resident of Mount Pearl and comes to the Mount Pearl Paradise Chamber of Commerce with 9 years' experience with the St. John's Board of Trade as an Account Executive. Her responsibilities included recruitment and retention of members, selling sponsorships, and selling advertising for both the directory and monthly magazine. She has enjoyed helping to organize events such as the annual golf tournament, business mixers, annual trade show, and Business Excellence Awards. Wanda is very passionate about her job and dealing with members to promote positive community and economic growth in our area.
Please feel free to swing by our office to say hello
OUR FOCUS
We understand that the concerns, challenges and other needs of small businesses differ drastically from those of larger businesses. Our goals are to create a growing, prosperous business community in the City of Mount Pearl and Town of Paradise through collaboration with our members, stakeholder, and other community members.
One of the chamber's our main responsibilities is advocating on behalf of small and medium-size businesses to influence government policy and legislation. Our members are the driving force behind the direction of these efforts, and we encourage everyone to provide feedback and get involved. Visit our Advocacy page to learn more about the mission behind our efforts.
Chamber members have access to affordable group benefit plans and discounts through various reliable vendors. Member-to-member discounts are also available. See Connecting With Your Chamber for more details.
Our business and social events provide valuable opportunities to discuss, share and network with other members. This includes lunch n' learns, award banquets and our annual golf and washer toss tournaments.
CELEBRATE SMALL BUSINESS SUCCESS
We take pride in our members' success. Our annual Best in Business awards banquet is the perfect opportunity to recognize and honour their achievements.
Mount Pearl-Paradise Chamber of Commerce
The Mount Pearl Paradise Chamber of Commerce is committed to building a strong, successful future for your business. We welcome you to join us
today.
Events
Chamber News, Tournaments & Networking Events
Mount Pearl Paradise Chamber of Commerce Webinar with Minister Coady
Event Timing: Wednesday, October 14, 1:00 pm (NST)
Contact us at (709)364-8513, info@mppcc.ca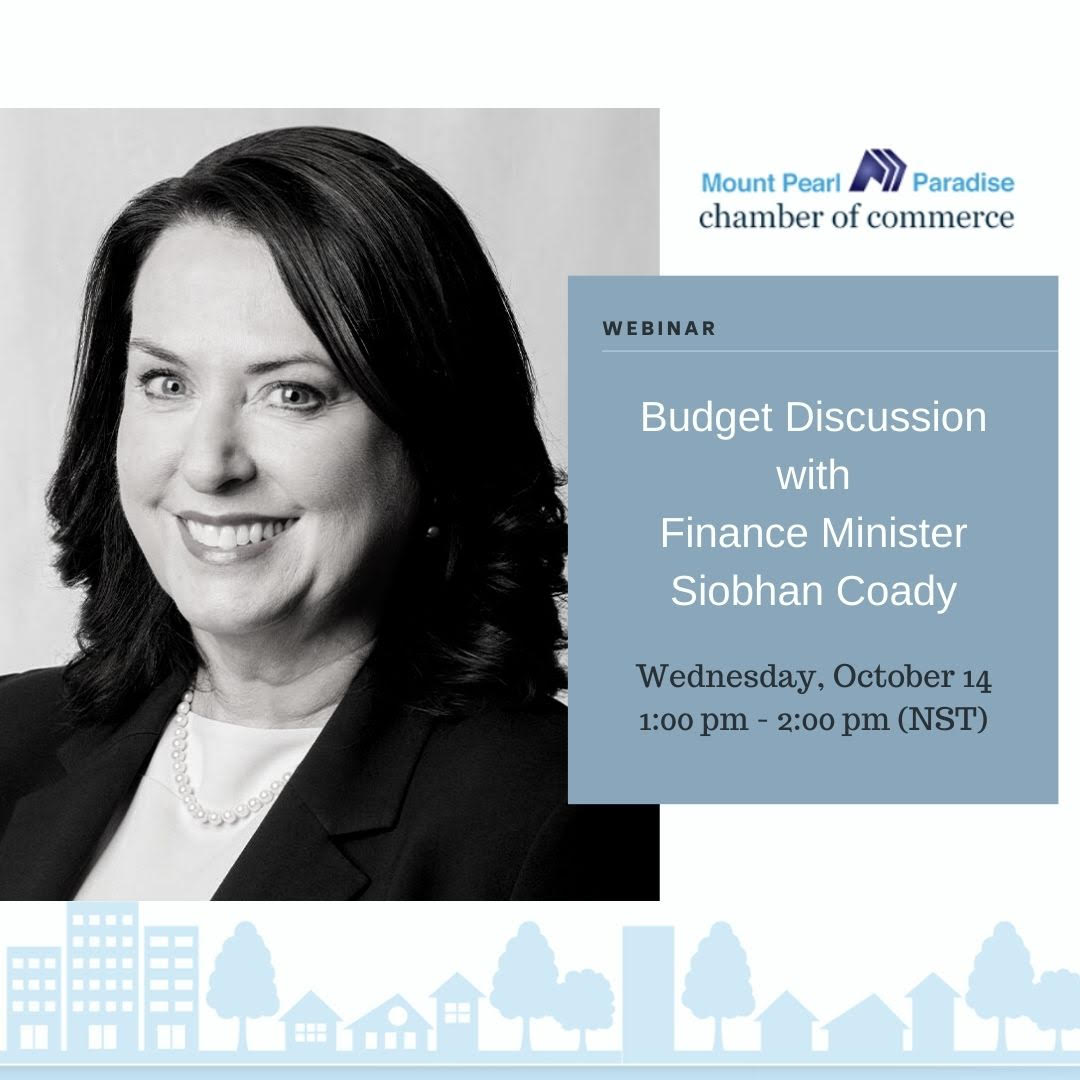 For more upcoming events and news, feel free to click here to stay updated.